IN-VITRO EMBRYO PRODUCTION (IVP)
IVP is a cost effective and welfare friendly service particularly suited to cattle breeders who wish to exploit the opportunities of their fertile, high genetic merit cattle. 
The IVP process produces embryos from collected oocytes (unfertilised eggs). The oocytes are fertilized within a petri dish by selected semen, and subsequently cultured for seven days until fully developed embryos can be transferred or frozen. 
IVP is a relatively new technique within the UK, but globally, it is a widely used method of producing embryos where it outcompetes MOET for its flexibility and multiple benefits to breeders and their donor animals. 
We currently offer two distinct IVP donor programmes dependent on the individual animal requirement and/or farmers preference.
The first programme is our non-stimulated system, where IVP donors are not subjected to any hormonal drugs or synchronization prior to the collection of oocytes, which accordingly makes it the simpler, cheaper and less labour intensive option.

The second programme is our stimulated system, which requires six hormone injections prior to collection. Stimulation leads to a boost in oocyte quality on a given week – sometimes it can improve number of oocytes too, however collection can only be done every fortnight and requires additional handling of the donor animal.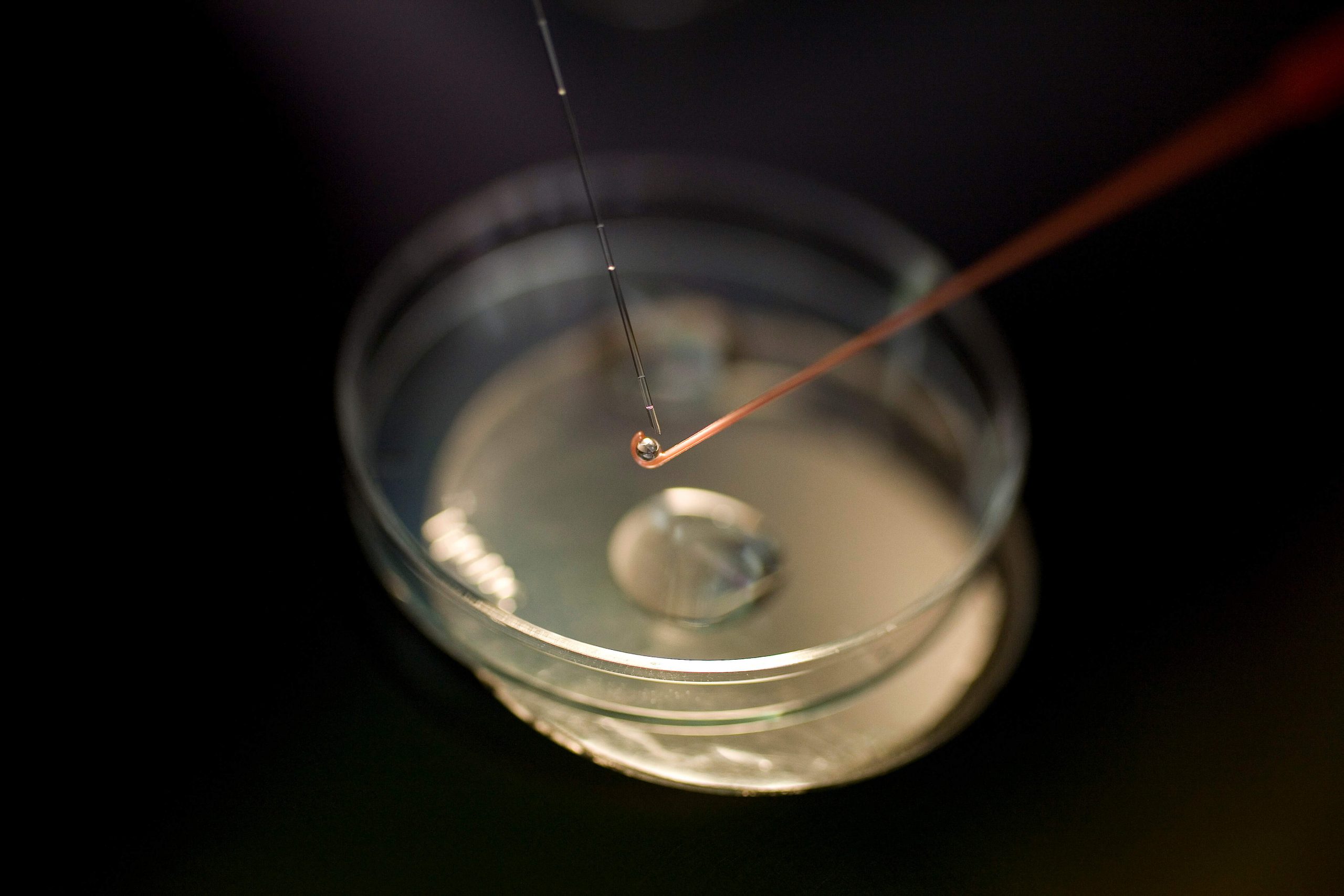 AB Europe ensures the flexibility of programme options for donor programming, whether donors are in-calf or empty, under 15 months or older, or problematic in terms of fertility, so we can work with what would allow the most successful outcome in their current situation.* 
*We still advise, regardless of programme used, that donor management is highly important for at least three months prior to collection to ensure best health and viability of oocytes at the point of collection. Please see our donor management section for more information, or contact us to speak to one of our knowledgeable cattle vets.
In-Vitro technology is commonly thought of as a last chance method to retrieve embryos from poor fertility donors, or those that have failed to get in calf or flush successfully. Occasionally this approach can yield acceptable results, however in many cases the outcome is still poor as the reliance for IVP will always be based on the initial oocyte quality being optimal. 
Advantages of IVP
A larger number of offspring can be generated in a shorter time frame than using conventional methods.

Process is non-surgical and requires no treatment other than epidural anaesthesia and a hormone programme.

OPU collections can be performed weekly or fortnightly.

Oocytes can be collected from both juvenile heifers, and from pregnant donors during the first trimester.

Technique can be used on animals with a range of reproductive disorders.

Less semen used per fertilisation so multiple donors can be fertilised with a single straw.

Wide range of bulls can be used due to frequency of collection.
Therefore, we recommend switching from this traditional perception, as with its on-going developments IVP offers numerous advantages for cattle breeders.
IVP v IVP stimulated v MOET
| | | | |
| --- | --- | --- | --- |
| | IVP | IVP STIM | MOET |
| Number of collections per month |                            4 |                             2 |                             1 |
| Number of semen straws per donor | 1 | 1 | 3 |
| Average number of embryos per collection | 2.5 | 5 | 6 |
| Average number of embryos per month per donor | 9 | 10 | 6 |
| Collect from pregnant cows | yes | yes | no |
| After calving collections (weeks) | 4 | 4 | 8 |
| Programme 'line-up' for donors (days) | 0 | 12 | 20+ |
| Donor drugs / AI | none | 6 injections | 9 injections / AI and CIDR |
| Vet / drugs cost to programme donor (£) | 0 | 80 | 120+ |
| Pregnancy hold rate % (fresh embryos) | 60 | 60 | 60 |
| Pregnancy hold rate % (frozen embryos) | 45 | 45 | 50 |
IVP ENABLES COLLECTION FROM DONOR COWS EVERY WEEK/ FORTNIGHT, EVEN DURING EARLY PREGNANCY